New Jersey Gov. Chris Christie (R) would like you to know that he definitely did not get a tan this weekend.
The
paparazzi didn't get a chance to view the Governor getting a tan either. That effects the economy.
I'll be darn they did get a picture of him. Governor Chris Christie unapologetic? Ya, think?
And now there isn't going to be any fireworks either. The First Lady of New Jersey, Mary Pat looks hot. That is quite a crew. I would think the photographer could have gotten in some water. It looks like the First Family of New Jersey is sitting on a desert. The Governor wears to many clothes on the beach to cause any excitement.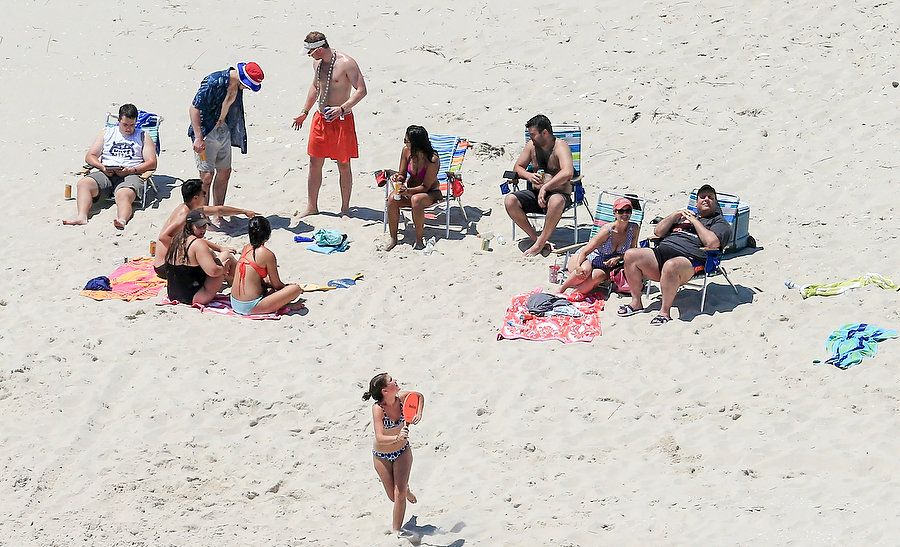 July 3, 2017
By Amy B. Wang
Yes, Christie told reporters (click here)
at a Sunday news conference in Trenton, his family was staying in the state-owned beach house at Island Beach State Park over the July 4 weekend — even though the park was closed to the public amid a statewide government shutdown.
He had been unapologetic about that gubernatorial perk the day before: "That's the way it goes," Christie said Saturday. "Run for governor, and you can have the residence."
And, yes, he had joined his family at said state-owned beach house, flying between the barrier island and Trenton using a state helicopter. But when asked if he got any sun, Christie was clear.
"I didn't," he said Sunday, according to the Newark Star-Ledger. "I didn't get any sun today."
That was before the newspaper showed the governor aerial photos of himself and his family relaxing on a very large and otherwise empty (because it was closed) portion of the state beach. The exclusive photos were published Sunday evening on NJ.com, sparking outrage from New Jersey residents already upset about the state's budget impasse....
There ya go. There is water.
July 3, 2017
Trenton — New Jersey's government

shutdown
(click here) will go on at least one more day, the state's top Democratic lawmaker said Monday morning.
"It couldn't end today if we wanted to," Senate President Stephen Sweeney (D., Gloucester) said at a Statehouse news conference. "Because if we could get something done, we'd have to draft a bill. … It's at least tomorrow."
"Getting something done" is also uncertain.
Sweeney is due to meet this afternoon with Assembly Speaker Vincent Prieto (D., Hudson), and Robert Marino, CEO of Horizon Blue Cross Blue Shield of New Jersey — the company at the center of the shutdown fight, which began at 12:01 a.m. Saturday after lawmakers failed to pass a budget for the new fiscal year....
The immigrants are going to be like, "Yah, man, where are all the freedom fireworks? I thought that was a big thing around here." Everybody is going to be like, "Atlantic City? Naah, there ain't no fireworks there either. So much for Trump."
June 30, 2017
With the
Fourth of July 2017
(click here) right around the corner, fireworks are on tap in towns, boroughs and cities across the state. Where are the
July 4th 2017 fireworks
displays closest to you in New Jersey? We're here to help. We have a compiled a list of more than a hundred Fourth of July fireworks displays in all 21 counties.
What time, date and location are these Fourth of July 2017 fireworks displays? Scroll down to find out. Please note that many events, including fireworks displays, are not on July 4 and some are scheduled for late June. Counties are listed in alphabetical order....